Window Cleaning Louisville KY
Louisville's #1 Rated
Window Cleaning
Get The Best Window Cleaning In Louisville KY
If you want your windows to be more attractive and extend their durability, then you should consider hiring Window Cleaning Louisville KY services. Most people do not pay enough attention to the windows. Not only are windows an essential part of your home, but they also allow you to have a beautiful view of the exterior. Inadequate window maintenance will affect the efficiency of your home and will not only degrade the look of your home but also affect the view from your house. With our professional service, you will have the opportunity to enjoy your view every day. Windows are also a reflection of your hygiene, and everyone knows to have a clean and happy home, hiring professionals to do the work is the first step!
Your Home Is Protected With Our Louisville KY Window Cleaning
The biggest advantage you get from hiring our Window Cleaning Louisville KY service is safety. Our business will carry out your window cleaning project with the utmost care, and our window cleaners are very cautious to make sure your home is never damaged in any way. The security of our clients' assets is our top priority. We have $1 million in insurance, which will reduce any of your concerns about potential liabilities. Our experienced crew uses water fed poles to safely and effectively clean windows up to 3 stories from the ground. We provide quality service without damaging your property. We know that your home is your biggest investment. Despite all this, we use eco-friendly agents that are safe for your householders.
Our Louisville Window Cleaning Services Will Keep Your Home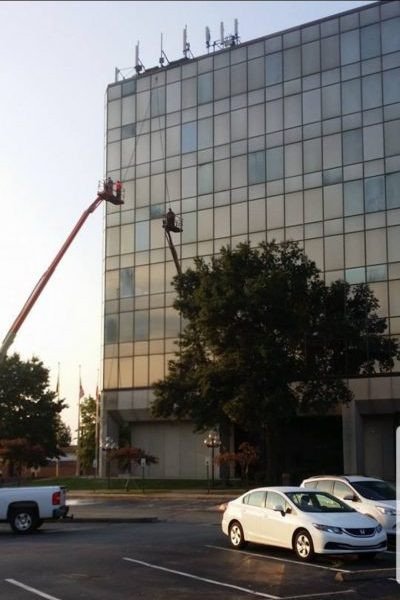 Louisville Window Cleaning With A Warranty
One of our core goals is to satisfy our customers, as well as to provide the best possible window cleaning service. What sets us apart from other companies that offering the same service is our 7-day window cleaning warranty. What does this mean? This means that if you opt for our service, your windows will remain flawlessly clean for a minimum of 7 days in all weather conditions. Rarely does a company offer such a guarantee. It is possible because our crew consists only of highly trained and experienced workers who know their job, so you can expect the best window cleaning ever, that will last.
Keep your windows clean all year long on auto-schedule
Windows are an essential part of a home that not only affects the value of your home but also its efficiency. For this reason, it is important that your windows are maintained regularly. That's why Window Cleaning Louisville KY offers a fantastic package for keeping your windows clean year-round. We offer a package with quarterly auto-scheduled cleaning throughout the year so you can fully enjoy your immaculately clean home. We know that window cleaning is no easy task and carries with it the risk of injury – that's why we're here! Contact us and get rid of the painstaking window cleaning hassle all year long.
Increase Your Curb Appeal Instantly
Ready To Rejuvenate Your Home?
Our Core Exterior Cleaning Services